Back To Blog
OpenForms Use Case: Self-Guided Forms
Many of your city website visitors come looking for answers. Do I need a building permit? Which permit is right for me? Should I register my business? Traditionally, customers have had to search through heavy content or unwieldy PDFs to find the information they need. There is a better way.
Create a self-guided form and simplify complex topics
You can use OpenForms to present process steps and explanations in a conversational flow that converts complex topics into a self-guided journey. Effortlessly lead customers to the answers they need without wading through pages of local laws, policies and procedures.
Apply OpenForms conditional "if/then" logic across multiple questions to direct the user to the next appropriate piece of information or action. This saves staff time by allowing customers to self-serve online, and better understand what they need before taking action.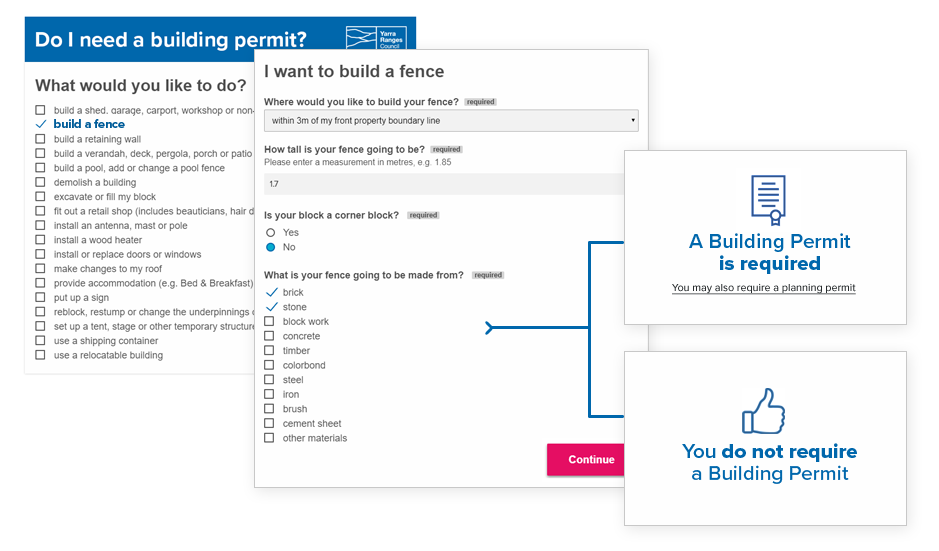 Success with digital self-guided forms
Building and planning matters are perhaps some of the most complex interactions residents can have with Council. Permit requirements vary based on a range of factors and local laws too complicated for the average person to decipher. Customers would regularly call or visit  Yarra Ranges Council's customer service centre to speak with planning specialist about the types of permits they require. This was a time-consuming conversation given the range of variables involved.
Leveraging the power of OpenForms conditional logic and calculations, Yarra Ranges Council created a self-assessment form that guides customers through 19 common building scenarios, and via a series of questions, tell the customer which permits they may require. Within 12 months, this form alone generated 12,900 visits. With an average session of 2 ½ minutes, the customer could get the answer they needed without making a call or visiting the council.
---
Explore more ways to use OpenForms: