Back To Blog
Open Forms Use Case: Community Requests
Please repair this pothole. I need a new bin. Review my parking ticket. 
Every day local government processes thousands of these requests. Telephone calls and walk-ins are not only frustrating for customers, they are costly for the city.
Use online forms to reduce the cost of community requests
Research reveals the average cost to serve a customer over the counter is AU$16.90 per request. The same request served over the phone costs $6.60, while the same request self-served online is only 40 cents. (Source: Deloitte Australia, 2015) It's no wonder the shift to online vs. in-office interactions is picking up speed.
Smart forms make it easy for the community
Cities across the world are transforming the customer request process with OpenForms. Easy-to-use online forms use conditional logic to minimise the amount of information community members need to fill out, and as a result, simplify internal processing. Create an intuitive workflow that moves requests smoothly between the right people or departments, and save the completed request as a permanent record.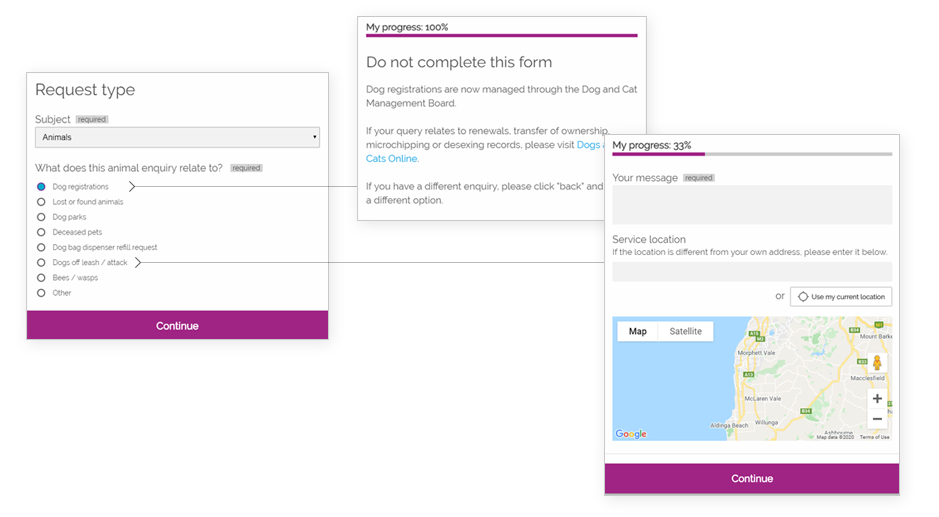 Community requests success
City of Onkaparinga's old customer request form was a bottleneck, providing a one size fits all experience that sent all customer requests, regardless of department or eligibility, to the City's customer service team for manual triage and distribution.
With OpenForms, the City was able to create a smart one-stop request form that adapts to capture the right information based on request type, or shephards the customer to the relevant online system where digital self-serve options already exist.
Using the OpenForms redirect feature, customers were also notified and redirected to relevant external agencies when submitted requests the City isn't responsible for, saving time and frustration for both customers and city staff.
---
"In just 3 months and with only 1 full-time resource, Adelaide City Council digitised 52 services. Our new Parking Expiation Review Request has significantly reduced customer effort. Before, we received over 800 requests to review a parking expiation each month, and 20% of these requests required a second contact to obtain further information. With OpenForms, City of Adelaide made it much easier for customers to lookup their infringement notice, and pay or contest the fine with a few clicks. In just 2 weeks, we saw a 50% reduction in second contacts – saving nearly 23 hours of processing time and reducing response time in half."
Hollie Keon, City of Adelaide
---
"Transforming our PDF forms was never about simply moving existing paper processes online. It was about leveraging the power of the digital channel and tools at our disposal to create digital forms and service experiences that simplified and streamlined every interaction. Using OpenForms, Yarra Ranges Shire Council was able to streamline a range of requests. For example, we had 18 different forms and pathways for waste-related matters that we streamlined to just 3, 12 forms for tree-related matters simplified down to 2, and 7 forms for road matters transformed into 1."
Hyma Vulpala, Yarra Ranges Shire Council
---
Explore more ways to use OpenForms: